SCHOOL ERP SOLUTION
MAKE SCHOOLS GREEN SMART & PAPERLESS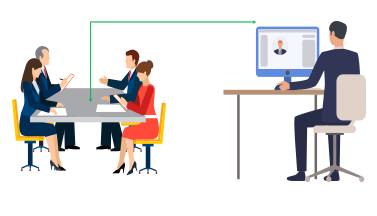 The school management system software boosts the productivity of the Institute.
How does it do?
The software is basically a set of tools that allows the organization to run smoothly. The advantage is in its ability to serve everyone involved in the academic process: the administrators who oversee the school operations, the teachers and students, the parents who await for the completed project and progress letters, and the staff that gets the processes up and running.
School ERP software provides a road-map if you will, that enables school administrators to run the institution in a cost effective way without consuming too much time and effort.
Here is the top-ten list of the advantages of School ERP software.


STUDENT MODULE
Student module allows the student to view academic details. Students can view timetable, allotted teacher details, personal profile, allotted subjects, attendance, exam related activities, events, and holidays. They can access library, hostel, and transport details through this module.


TEACHER MODULE
Allows the teacher to manage students' academic progress and details and to view and manage their personal profiles. The module is divided into two sections: the class teacher and the teacher. The teachers and the class teachers can view the profile of students whom they are teaching, view and manage the student attendance records, assignments, home work, class test, and special classes.


ACCOUNTANT MODULE
This module connects all the modules which have cash/bank transactions. All major accounting related tasks can be performed through this module. Automatic journal entries are posted to the journals from respective modules when an account is changed. Report generation supports the journals, ledger, cashbook, day book, petty cash book, trial balance, and balance sheet.


PARENTS MODULE
Parents module allows parents to view their ward's profile, updates and notifications. Parents can view their ward's class teacher details, timetable, syllabus, upcoming exams, fee dues and previous fees etc. Exam, class test and internal assessment results are shown in graphical representation for ease of understanding. Customized reminder for upcoming exams can be configured by the parent. Dashboard displays all the important activities of parent module on the home page itself. Circulars and notices posted by school are also shown in this module.


TRANSPORT MODULE
This module eases the process of assigning & maintaining the buses and other vehicles. It will keep the records of students using conveyance, their routes etc. Vehicles and driver details can be added into the system. Vehicle maintenance and fuel consumption logs can be easily added and retrieved. Vehicle routes can be customized with boarding points for students, and staff that is allotted to each vehicle. Drivers can be allotted to different buses as per requirement. Vehicle log can be added and displayed for tracking. Customized circulars can be issued for particular route.


LIBRARY MODULE
Manage print materials like books, journals and magazines along with CD, DVD and E-Journals. It maintains all acquisition register, stock register and reports. Using acquisition module, user can add, edit and update book details. Subscriptions are configurable.This module is integrated into teacher, student and parent module. Book readers can search books and get their availability status. Option to notify when books are available. Library default lending time and fine rates can be customized. Search/manage to whom the book has been lent. Lost/damaged/discarded books can be flagged.


ACADEMIC MODULE
Helps to manage the academic structure such as syllabus, timetable creation, time slot creation, academic calendar, and other academic info. Features include holidays, extracurricular activities, academic year, reminders, thought for the day, and teacher allocation management. Academic terms and Examination can be configured. Circulars can be added. Complaint box is integrated. School's activities and clubs can be easily configured.


STOCK MANAGEMENT MODULE
Stock management module manages the stock available at school. Vendors can be added, updated, disabled or even blacklisted. Stock categories and items can be added and customized according to user requirements. Bar code generation is also supported. Items can be sold using the sales menu. Stock reports are available for tracking of remaining and sold items.


HOSTEL MODULE
This module offers a full featured accommodation system for staff and students. It efficiently manages the residential facility in the school. Reducing the staff & paper works, this hostel accommodation software will keep the updated records of students, staff, transfer of rooms, and other facilities. Types of room can be categorized on the basis of facilities provided. Room accommodation strength can be configured for each type of room. User can search any profile of student or staff residing in the hostel. Accurate tracking of occupants can be achieved through this module. Student's leave notification is integrated here.


HR & PAYROLL MODULE
HR & Payroll module allows the proper management of all staff and faculty with payroll details. Options to Add / Update Employee's official details are available. Other important features include Pay Slip generation on monthly basis, Leave management, Attendance Management, Complaints Management, and Employee ID card printing.


REGISTRY MODULE
Registry module manages classes and batches. This module helps to assign classes, divisions, room number, stream, subjects, education level, and admission for students.


FINANCE MANAGEMENT MODULE
Finance Management module manages all finance related details of the school. All important tasks such as fee management, pending and paid fee management, fines and discount management can be performed using this module.
---